CMCU takes a border economic cooperation zone's EPC project
(sinomach.com.cn)
2020-08-06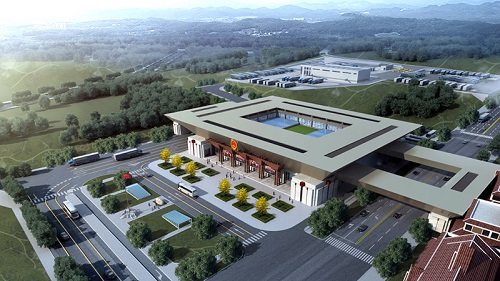 Planning map of the phase II EPC project in the China-Laos Mohan-Boten Border Economic Cooperation Zone, designed by CMCU [Photo/sinomach.com.cn]
China CMCU Engineering Corporation (CMCU), a subsidiary of Sinomach, recently won the bidding for a phase II engineering procurement construction (EPC) project in the China-Laos Mohan-Boten Border Economic Cooperation Zone, and took the lead in overall design of the project.
The China-Laos Mohan-Boten Border Economic Cooperation Zone, located near China's Mohan Port, is an important exploration for China and neighboring countries to jointly build the Belt and Road as well as a community with a shared future for mankind, consolidate and further develop bilateral comprehensive strategic and cooperative partnerships, and enhance mutual benefits.
The zone is the second cross-border economic cooperation zone established by China and a neighboring country after the China-Kazakhstan Khorgas International Border Cooperation Center. Developing a cooperation model with Laos and accelerating its pace of opening up is important for China.
The project is the maiden attempt of CMCU on cross-border economic cooperation zone projects. After years of efforts to develop customs supervision projects, the CMCU's team has accumulated unparalleled experience and technical strength. It made in-depth study of the new requirements for port supervision in the new era especially in the context of epidemic prevention and control, and communicated with the service organs of port administrations such as customs and immigration inspection in a timely manner.
Based on the latest requirements and the recent development of customs and immigration inspection processes, the project team presented an innovative and feasible design scheme. It strived to comprehensively realize intelligent and high-efficiency customs clearance, and to reduce the construction cost of infrastructure in the port and the zone, speeding up the zone's integral construction.
The project, once completed, will further integrate the facilities used for special supervision of the customs in the area, guaranteeing its normal operation. It is conducive to deepen cooperation between China and its neighbors in facilitating free trade and investment, personnel exchange, infrastructure connectivity, and regulatory services, and will strengthen the overall competitiveness of the country's border areas.
It is of great demonstration and epoch-making significance for improving people's well-being in China and neighboring countries and will pave the way for CMCU to further expand cross-border special supervision projects such as port clearance regulation and border trade.