CAAMS signs deal with Tongliao government
(sinomach.com.cn)
2019-01-11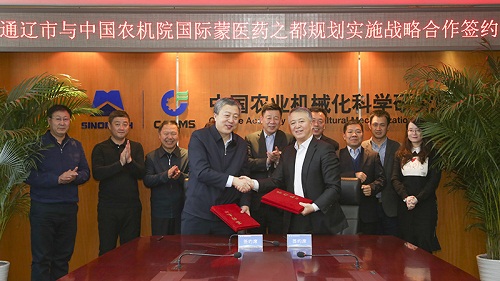 A signing ceremony for the agreement between the Chinese Academy of Agricultural Mechanization Sciences and the government of Tongliao, takes place in Beijing, on Dec 25, 2018. [Photo/sinomach.com.cn]
The Chinese Academy of Agricultural Mechanization Sciences (CAAMS), a subsidiary of Sinomach, signed a strategic cooperation agreement with the government of Tongliao city, Inner Mongolia autonomous region, in Beijing, on Dec 25, 2018.
Under the terms of the new agreement, CAAMS will work to promote the traditional Mongolian medicine (TMM) industry in Tongliao, as well as assist with the modernization of local agriculture.
CAAMS is known for its highly-trained staff, advanced technology, and its marketing and manufacturing expertise, and plans to bring the full weight of its experience and advantages to assist Tongliao.
Tongliao is home to around 1.38 million ethnic Mongolians, or about one quarter of China's total. It is one of the reasons why the city has become one of the most important hubs for TMM in the country.
Similar to traditional Chinese medicine, TMM also relies on herbal remedies, with prescriptions made into pills rather than the herbal infusions used in TCM.