Ren Hongbin attends WEF in Davos
(sinomach.com.cn)
2018-01-29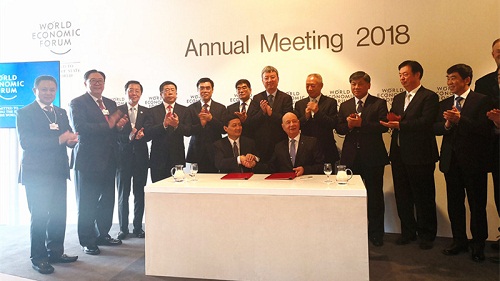 Ren Hongbin (fourth from left), chairman of China National Machinery Industry Co, attends a meeting with World Economic Forum founder Klaus Martin Schwab, officials from China's State-owned Assets Supervision and Administration Commission, and leaders of Chinese State-owned enterprises in Davos, Switzerland on Jan 23. [Photo/sinomach.com.cn]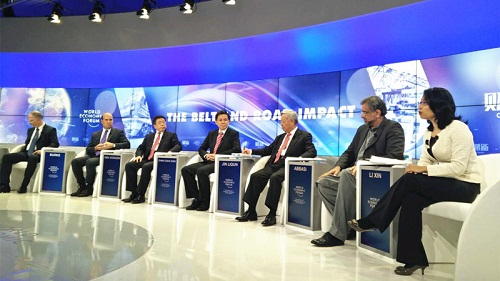 Ren Hongbin (third from left), chairman of China National Machinery Industry Co, takes part in a forum themed "the Belt and Road Impact" in Davos, Switzerland in Jan 24. [Photo/sinomach.com.cn]
Ren Hongbin, chairman of China National Machinery Industry Co (Sinomach), took part in the 48th World Economic Forum in Davos, Switzerland from Jan 23 to 26.
With a theme of "creating a shared future in a fractured world," the forum attracted government leaders, politicians, entrepreneurs, economists and scholars to explore the significance of international cooperation and key issues that concern the common interests of countries during heightened global tensions.
At a sub forum about the impact of the Belt and Road Initiative, Ren, on behalf of Chinese entrepreneurs, shared his views on strengthening cooperation with countries involved in the initiative and ecofriendly infrastructure construction.
"The B&R Initiative will solve the problem of uneven development," said Ren, at the forum on Jan 24.
According to Ren, Sinomach has completed 1,200 overseas projects, with many others still under construction in the 48 countries involved in the initiative.
Ren also claimed that there are challenges and opportunities in overseas construction projects, but that Sinomach insisted on win-win cooperation and always took local policies and developmental strategies into consideration.
"We will also keep pushing forward ecofriendly development in infrastructure construction," he added.
During the interview with domestic and foreign media, Ren said that the Belt and Road Initiative has created a new platform for international cooperation and development opportunities for some undeveloped countries. Sinomach will take full use of this platform and bring Chinese technologies, equipment, capital and services to help these regions.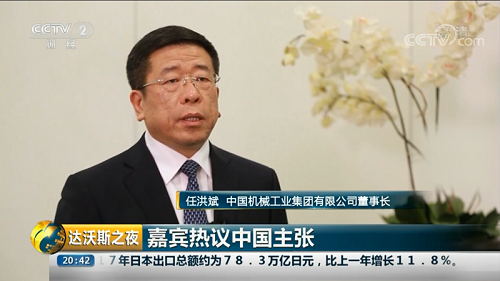 Ren Hongbin, chairman of China National Machinery Industry Co, shares his view on the Belt and Road Initiative in an interview with China Central Television at the 2018 World Economic Forum annual meeting in Davos, Switzerland. [Photo/sinomach.com.cn]