Sinomach leaders check on subsidiaries
(sinomach.com.cn)
2016-02-19
The chairman of China's National Machinery Industry Corp (Sinomach), Ren Hongbin, its vice presidents Xu Jian, and Zeng Xiangdong, paid a visit to the China Sinomach Heavy Industry Corp, a wholly owned subsidiary, with other company officials, on Feb 2, to discuss business at the local level.

Ren and the group started with the Heavy Industry Corp exhibition hall to look at company development, its products and its projects, where Ren said that, during the 13th Five-year Plan (2016-2020), the company should focus on technological R&D innovation and its business model for a better future, giving special attention to reforms, and try to find ways to cooperate with overseas resources and make full use of them. He also emphasized the need for Sinomach to give more attention to any of its companies facing difficulties, and to support them.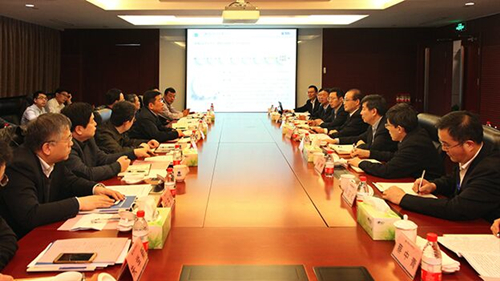 Sinomach leaders at the China Sinomach Heavy Industry Corp, on Feb 2.